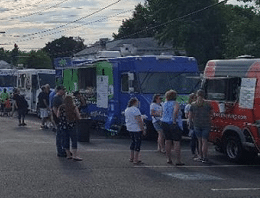 First Church is pleased to announce that the Third Friday Food Trucks will be returning Friday, September 17! The trucks will serve in the church parking lot from 4:30 to 8:00 p.m.
We will once again provide tables and chairs to enjoy your food under a spacious canopy. We will be welcoming the following food trucks: Mad Dash, 717 Taco, Get Smok'd, It's All Greek, Grappling Crab, Savory's Funnel Cakes and Scoop of Dough. (check our FB page for any last-minute changes in trucks).
All are invited back to our parking lot on Sunday, September 19 starting at 4:00 p.m. for our fall kickoff! Bring your own picnic and lawn chairs for a night of fellowship, games and worship!
Mark your calendar now for the final Food Truck night on Friday, October 15.
Please Like our Facebook page at First United Methodist Church of Mechanicsburg, Pa. for updates and future events.