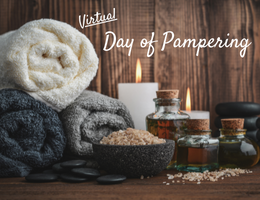 First Church invites the public to view an online worship service in honor of the Annual Day Pampering on Saturday, Feb. 26.
Day of Pampering is an annual outreach held to celebrate and recognize women who serve as the primary care provider for a loved one with extraordinary needs. This can include the mothers of children who have special needs, or women who are caring for a husband with health issues.
For more than a decade, First Church has transformed its building into a beautiful retreat for the day-long event that includes a featured speaker, a served lunch, fellowship and networking, and an afternoon full of personal services such as manicures, pedicures, massage therapy, health screenings, and a tea room.
In adherence to COVID-19 safety protocols, First Church will not hold the Day of Pampering in person this year. But we will make available a pre-recorded worship service for anyone who wants to participate. The service will include worship, music, a guest speaker, and an opportunity for an interactive Blessing of the Hands ceremony.
The service will be available for viewing here at 1:00 p.m. on Saturday, February 26. Viewers are encouraged to prepare a small bowl of water and a towel before watching the service. If you have any questions about the Day of Pampering service, feel free to contact the church office at 717-766-4611.