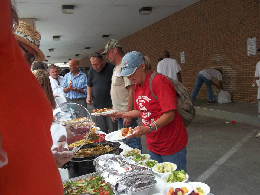 First Church is pleased to support Isaiah 61 Ministries, a local organization that serves the needs of the homeless in Dauphin County. They provide a variety of services including a soup kitchen, clothing bank and Life groups.
Specifically, First Church members help serve meals to the homeless in downtown Harrisburg on the third Wednesday of each month. The next volunteer opportunity is Wednesday, July 17, 2019, at 6:30 p.m. A carpool leaves from First Church at 6:00 p.m. for those who are interested.
All are welcome! CTo volunteer, call or e-mail the church at 717.766.4611 or office@fumchurch.com.