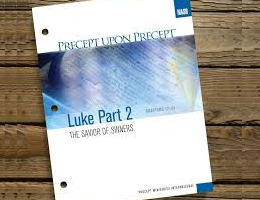 How did Jesus spend his final days? And just what happened when Jesus died and rose from the dead? Come to find the answers in "The Savior of Sinners," a study of chapters 17 to 24 of the Gospel of Luke.
The seven-week study Precept Ministries will be led by First Church member Juanita Guise. Classes begin in February. Thursday morning and Thursday evening classes are available. The $15.75 cost covers the workbook.
All are welcome. You do not have to be a member of First Church or of any church to attend.
For more information, call or e-mail Tina Eaton, Director of Adult Ministry, at 717.766.4611 or adultministry@fumchurch.com.