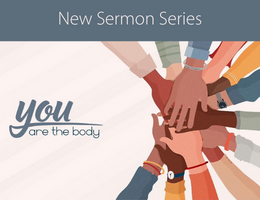 Wise men from the East came to Jerusalem asking, "Where is the child who has been born king of the Jews? For we have observed his star at its rising and have come to pay him homage." They see something of significance in the baby in Bethlehem, even when many of those closest do not.
Like the wise men, we who have seen the light of Christ are called to reflect it so that others see Christ through our loving presence!
As we begin 2022, First Church invites you to journey with us through a series of powerful messages from the teachings of Paul. Our pastors will present "You Are the Body," sermons based on Paul's instructions in I Corinthians 12-15 to let the light of Christ shine around in, around, and then through us to a world yearning for the love that "never ends." Sermons will be accompanied by recommended brief daily Bible readings to enhance your understanding of the Scripture.  Find the Daily Bible Readings for January and February here.
You do not have to be a member of First Church or of any church to join us for worship. Sunday morning services are held at 8:30 a.m. (traditional) and 11:00 a.m. (modern). The 8:30 a.m. worship is also offered via livestream on our website.  First Church continues to observe the recommended COVID-19 protocols to ensure the safety of all who attend. See more details here.
For more information, call or email the church office at 717.766.4611 or office@fumchurch.com.
Weekly Messages
| | | |
| --- | --- | --- |
| January 9 | Weather Cancellation | |
| January 16 | "You Are the Body: God's Beloved" | Luke 3:15-22 |
| January 23 | "You Are the Body: Gifted to Serve" | I Corinthians 12:1-11 |
| January 30 | Youth Sunday–Luke Wertz/Youth Band | |
| February 6 | "You Are the Body: Knit Together" | I Corinthians 12:12-31a |
| February 13 | "You Are the Body: A More Excellent Way" | I Corinthians 13 |
| February 20 | "You Are the Body: Holding On to The Message" | I Corinthians 15:1-11 |
| February 27 | "You Are the Body: Christ Alone" | Luke 9:28-36 |