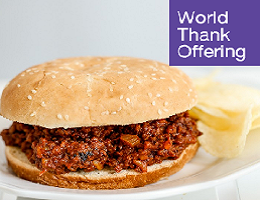 First Church will observe the World Thank Offering, led by the United Methodist Women (UMW), on Sunday, November 24, during the 8:15 and 10:45 a.m. worship services.
Observed annually, the World Thank Offering is an opportunity for individuals to respond to God's abundance and grace with gifts of gratitude. Donations support the mission and ministry of UMW nationally and around the world.
After the 10:45 a.m. service, join us in the Fellowship Hall for a barbecue Mission Meal. The meal is free, but donations are accepted to support local ministries.