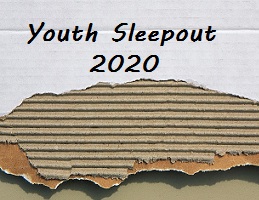 "Did you know that on any given day, there are up to 13,000 people in Pennsylvania without a home?"
First Church, in partnership with Mechanicsburg Brethren in Christ Church (McBIC), will hold its 29th annual Youth Sleepout for the Homeless during November. This year's event has been recrafted for the safety of participants and the public, but it will still fulfill its primary goal of raising funds for local agencies that support those struggling with homeless realities.
The Sleepout also raises awareness. It is intentionally held before Thanksgiving to remind participants that while many of us eat and live in abundance, there are others who struggle even to meet their basic needs.
Normally, students give up the comforts of home and sleep in cardboard boxes for a night. The youth will not sleep out this year, but the community can still support the event through a GoFundMe campaign, which can be found here. In addition, cash and check donations (payable to FUMC with "Sleepout" in the memo line) can be mailed or delivered to First United Methodist Church, 135 W. Simpson Street, Mechanicsburg PA 17055.
Participants will meet outdoors on Nov. 21 at McBIC for a campfire, soup kitchen style meal, and other socially-distant activities. Participants also will learn about the devastating effects of homelessness, and are encouraged to educate others through social media.
We are well are on the way to meeting the $5,000 goal! All donations will benefit New Hope Ministries, Family Promise, and Bethesda Mobile Mission. To learn more about the youth ministries participating in this event, visit the GoFundMe page here.