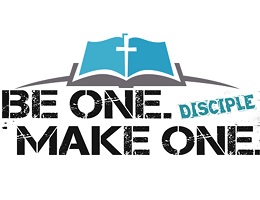 At First Church our mission is to make disciples of Jesus Christ for the transformation of the world. But to make disciples, we must first be disciples!
First Church started the "BE ONE, MAKE ONE" discipleship challenge at the beginning of 2018, and we continue to challenge everyone to join us in participating throughout the year!
Based on the core values that guide us as disciples, "BE ONE, MAKE ONE" incorporates focused study, weekly Scripture readings based on key Biblical themes, and messages during Sunday worship services to reinforce the lessons. In addition, participants can engage in a variety of spiritual activities throughout the year.
No matter where you are in your spiritual journey, "BE ONE, MAKE ONE" can help you develop into a more engaged and growing disciple of Jesus! Click here for the Bible Reading Plan.  Interested in finding out how you are doing in your Discipleship journey, click here for the Discipleship Evaluation Tool.
Visit the Welcome Center display to pick up a Bible and a reading plan, and check out the options for optional Bible study groups.  Invite a friend to participate with you! For more information, call or e-mail Tina Eaton, Director of Discipleship, at (717) 766-4611 ext. 104 or adultministry@fumchurch.com .
Six Core Values that Guide Us in Being Disciples
1. Lifelong Learner. I am continually growing as a disciple by studying God's word alone and with others.
2. Praying Follower. I faithfully listen in order to discern God's will and respond to God in prayer every day.
3. Passionate Worshipper. I glorify God in my personal life every day and in corporate worship on a weekly basis.
4. Dedicated Missionary. I demonstrate God's love for all people as I actively seek and respond to the needs of others. I am committed to reaching, encouraging, serving and connecting with our community and beyond.
5. Relationship Builder. I strive to always express love and compassion for others in a way that helps to create Christian community.
6. Generous Giver. In response to God's extravagant love for me, I cheerfully and consistently give both my spiritual gifts and financial resources to support God's mission.