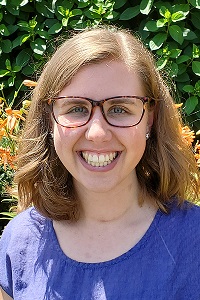 Favorite Bible Verse: Psalm 46:10
"He says, 'Be still and know that I am God; I will be exalted among the nations, I will be exalted in the earth.'"
Ellen Hill joined the First Church staff as Office Manager and Finance Secretary in June 2019. In this position, Ellen supports the diverse administrative needs of our pastors, staff members, committees, ministry groups, and church families. This includes maintaining church membership data, scheduling events in church facilities, overseeing maintenance of all office equipment, and ensuring accurate record-keeping of donations. Ellen also supports the church's Finance Director and Finance Committee in their work.
Ellen cannot recall a specific moment or time in her life when she felt called to serve Christ. "Church has always been a large part of my life," she said.
Ellen has been an active church volunteer throughout much of her life. She was a song leader and teacher for Vacation Bible School at her home church of Elimsport and St. John's United Methodist parish. Last summer, Ellen was a counselor at Camp YoliJwa near Newville. She worked with, and specifically oversaw, the spiritual well-being of students in grades 10 to 12. Previously, Ellen worked in the dining hall for the Young Life Camp in Lake Champion, New York.
Ellen will graduate from Messiah College in December, with a degree in business administration. She prayed for a professional position that values her faith and enables her to use her gifts to be a blessing to others. "When I found First Church, I felt at home and experienced such a peace that only God can give."
Previously, Ellen worked for Messiah College's Catering Services and Campus Events Departments. She also earned certification as a genius intern for the college's Sawyer Digital Proficiency Initiative. Through this program, students and staff meet weekly for workshops to improve their technical knowledge and skills.
Also on campus, Ellen participated in Messiah's Acclamation Dance Ministry devoted to worshipping God through various forms of dance.
A graduate of Montgomery High School in Montgomery, Pa., Ellen served as a class officer in her sophomore and junior years, was a member of the yearbook staff, and held various singing, dancing and acting roles in the school's Virtuoso Drama Group.