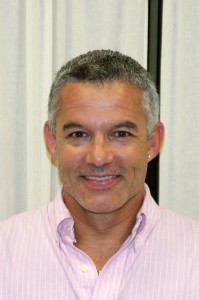 Favorite Bible Passage: Psalm 150
Praise the LORD! Praise God in his sanctuary; praise him in his mighty heavens!
Praise him for his mighty deeds; praise him according to his excellent greatness!
Praise him with trumpet sound; praise him with lute and harp!
Praise him with tambourine and dance; praise him with strings and pipe!
Praise him with sounding cymbals; praise him with loud clashing cymbals!
Let everything that has breath praise the LORD! Praise the LORD!
George Canonizado joined the First Church staff as Head Custodian in August 2011. In this position, George works to keep our building clean, warm and comfortable for Sunday worship services, and all other events that take place during the week. His duties include arranging rooms for various events or meetings as needed, unlocking the building each morning and locking it in the evening when all the day's activities are done.
George joined First Church in 2005. He is a member of the church's Prayer Team, co-teaches a youth Sunday School class, and plays trumpet for the Invocation Choir during Sunday worship services. He is also a member of ACCESS Ministry, a group that works to provide intentional welcoming at First Church for the mentally and/or physically challenged.
George is active in the community as an Assistant Scoutmaster for a Boy Scout troop in Camp Hill.
Previously, George worked in the document management field for more than 20 years. He also worked in quality management in the printing industry.
George, a native of Rhode Island, is a graduate of Middletown High School in Middletown, Rhode Island.
George and his wife, Debbie, are the parents of a son and a daughter.