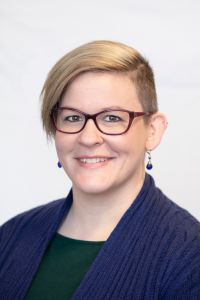 Favorite Bible Verse: "The Lord gives strength to his people; the Lord blesses his people with peace." (Psalm 29:11)
Jemma serves as the Director of the Little Friends Preschool at First Church. Little Friends is a Christian-based early childhood education program for children ages 2 to 5 held on-site at the church from September to May. Jemma oversees and supports the teachers and daily operations.
"Working with children is the love of my heart," Jemma said. "I believe in meeting every child where they are, loving them as they are, and planting the seeds of faith in the youngest hearts."
Jemma is no stranger to Little Friends. She joined the staff in 2015 as a teacher in the three-year-old classroom. Previously, Jemma worked as an administrative assistant and web developer for a local real estate company. She then committed her time to being a stay-at-home mom to her two children for nearly a decade.
Serving Christ has always been a part of Jemma's life, but she felt the call in a deeply personal way during the summer before her ninth grade school year. That is when she fully committed her life to Jesus.
"I believe that sharing the love of Christ with the people that I meet and the community that I call home is the most important work I can do in life," Jemma said. "I live by the reminder that there's not a single face I will ever lay eyes on that God does not love, and if God loves them, so should I!"
Jemma is an active member of Immanuel Church in Mechanicsburg, where she has the privilege of worshipping with her grandfather, parents, and children. Jemma co-leads the Women's Ministries fellowship, volunteers for Vacation Bible School, and uses her graphic design talent as needed for church publications.
Jemma has a degree in Digital Art from Thompson Institute in Harrisburg.
In addition to their two children, Jemma and her husband, Dan, are parents to two dogs, a bunny, two ferrets, eight guinea pigs, a lizard, two rats, a fish, and an axolotl.