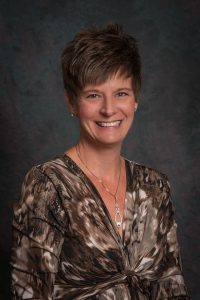 Favorite Bible Verses:
Jeremiah 29:11 "For I know the plans I have for you," declares the LORD, "plans to prosper you and not to harm you, plans to give you hope and a future."
Philippians 4:13 "I can do all things through Christ who strengthens me."
Lori Hoffnagle was named Director of Outreach in February 2017. In this part-time position, Lori is responsible for developing and implementing an overall outreach communication strategy to promote First Church in the community. Her duties include managing content for the church's Web site and social media presence, overseeing the placement of press releases and advertising in the local media, creating brochures and other promotional materials, developing a long-range schedule of church programs and events, and tracking participation in the programs.
Lori, a lifelong Christian, joined First Church in 1987.
"After dedicating my life to Christ when I was young, I have always felt that serving Christ is just a normal part of my faith walk," Lori said. "I am passionate about telling others about Christ and absolutely love to connect people to the church and the fellowship of believers!"
Lori, a native of Lewistown, first heard the call to serve Christ while attending high school. "I was asked to teach a Sunday School class to younger children. Even though I was inexperienced, I know it was a first step to my calling to serve."
Later, when Lori joined First Church, she became active in the United Methodist Women (UMW). She credits her involvement with connecting her to other women of faith, providing good leadership opportunities and helping her grow spiritually.
In addition to her involvement with UMW, Lori serves on the Evangelism Team and Women's Retreat Committee. Previously, she served as a counselor at Camp Penn in Waynesboro for summer church camp. Lori also taught Sunday School, mentored young mothers through the First Church chapter of MOPS (Mothers of Preschoolers), was chair of the Communications Committee and coordinated the annual Mother – Daughter Banquet.
Lori is also an active community volunteer. Her recent efforts include serving on the Development Committees for Mission Central in Mechanicsburg and the Neighborhood Center in Harrisburg, and the Golf Outing Committee for New Hope Ministries in Mechanicsburg.
Lori has extensive work experience in the non-profit sector. Previously, she worked as a development officer for RSVP of the Capital Region and the Neighborhood Center in Harrisburg. Previous to that, she was the Special Projects Coordinator for Leadership Harrisburg, and was in charge of business development for Junior Achievement of South Central PA and resource development for the United Way of the Capital Region. She also held positions in fund development, volunteer training and program management for the former Hemlock Girl Scout Council in Harrisburg.
An extremely creative person, Lori once taught instructional classes to adults and children in cake decorating, candy making, and calligraphy. She also served as an independent consultant for a scrapbooking and stamping company.
Lori is a graduate of Chief Logan High School in Lewistown.
Lori and her husband, Jeff, have two children.