Favorite Bible Verse: Hebrews 12:1-2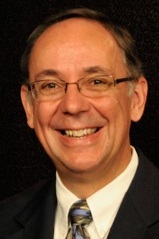 "Therefore, since we are surrounded by such a great cloud of witnesses, let us throw off everything that hinders and the sin that so easily entangles. And let us run with perseverance the race marked out for us, fixing our eyes on Jesus, the pioneer and perfecter of faith. For the joy set before him he endured the cross, scorning its shame, and sat down at the right hand of the throne of God."
The Rev. Dr. Dennis R. Keller became Senior Pastor of First Church in July 2015. He provides pastoral care to congregation members, general oversight of the congregation and all of its ministries, leads worship services, and oversees the First Church staff.
Pastor Denny is no stranger to Central Pennsylvania. A native of Carlisle, Pastor Denny attended Grace United Methodist Church (now Carlisle United Methodist Church) while growing up.
Pastor Denny felt the call to ministry early in his life. "I can't remember a time when I ever wanted to do anything else but be a pastor," he said. "I was very blessed with loving Christian parents." Their commitment, along with the support of the pastors, Sunday school teachers and youth leaders at Grace, nurtured Pastor Denny on his faith journey and led him to accept God's call to pastoral ministry.
Pastor Denny is a graduate of Carlisle High School and Lebanon Valley College, where he earned a Bachelor of Arts degree in Religion. While in college, he served as a part-time youth pastor for nearby Trinity United Methodist Church.
Pastor Denny met his wife, Betsy, while attending Lebanon Valley. The couple married right after graduation. "She has been on the journey with me since then," Pastor Denny said. "The church is a really important part of her life."
The Kellers moved to Dayton, OH, where Pastor Denny completed a Master of Divinity at United Theological Seminary. While attending seminary, he served part-time as a chaplain at the Children's Medical Center in Dayton, and then as a youth pastor at a Church of the Brethren.
Pastor Denny's first appointment was a dual assignment to the Emigsville and Longstown United Methodist Churches in the York District. He served both congregations until 1989.
Next, the Kellers served Grace United Methodist Church, Centre Hall in the State College District. While there, Pastor Denny completed his Doctor of Ministry at Lancaster Theological Seminary. His doctoral project was focused on helping people to develop their prayer lives. His studies led to a book, The Many Faces of God, which was published in 1991. He has also written devotionals for the periodical The Upper Room.
In 1996, the Kellers began serving First United Methodist Church in Hanover, followed by an appointment to the Camp Hill United Methodist Church in 2001.
Pastor Denny has a wide range of pastoral experience, having served small, mid-size and large churches. His focus has always been on building relationships in church and community, helping people to develop as Christian disciples, and leading congregations toward God's next faithful step. He has led traditional and contemporary worship services, developed staff and lay leadership, and provided administrative oversight. He was continuously involved in building projects, capital campaigns, and stewardship development from 1989 through 2009.
In 2009, Pastor Denny was appointed Superintendent of the New Cumberland District of The United Methodist Church (now known as the Harrisburg District), where he provided supervision for 103 pastoral charges in Cumberland, Dauphin, and Perry Counties. He served in this position until his appointment to First Church.
Pastor Denny has served on several district and conference boards and agencies. He participated in the Growing Effective Churches Initiative, conducting church consultations and coaching pastors. He was elected as a reserve delegate to the 2004 and 2008 General Conferences and as a delegate to the 2004, 2008, and 2012 Northeastern Jurisdictional Conferences. In 2006, he and Betsy attended the World Methodist Conference in Seoul, South Korea.
Pastor Denny and Betsy give thanks to God for "grace upon grace" they have received as they have followed Christ's call. They are committed to the local church, because they believe in its great potential to transform individuals, communities and the world.
In addition to spending time with his family, Pastor Denny enjoys reading, working out, and traveling. He and his wife have traveled throughout the United States, toured the Holy Land, traveled Paul's missionary journey from Athens to Rome, and visited China and South Korea. They were members of a mission team to India, and have traveled to South Africa, where their daughter served as a young adult missionary.
Pastor Denny and Betsy are the parents of two grown daughters and have two granddaughters.