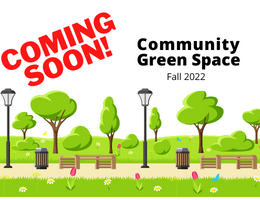 First Church will begin construction of a new Community Green Space this spring.
Community Green Spaces provide recreational areas to foster interaction among residents and encourage outdoor activity. Green spaces have been found to have substantial health and social benefits to both residents and communities at large.
The Green Space will be located on the western edge of the church parking lot along

High

 Street.
It will have a level grass lawn for recreation and relaxation, and a patio to serve as both a gathering space for small groups and a stage for outdoor worship nights and other events. Possibilities include community lunches, free concerts, and other fun events for the public to enjoy.
In addition, a local Boy Scout will be helping with some of the landscaping, building picnic tables and creating a flower garden along the edge of the Green Space for his Eagle Scout project.
The Green Space is the result of more than a year of prayer and planning by First Church. This project is part of First Church's vision to expand our ministry beyond our walls and serve the community that we love.  
The Green Space was made possible with support from the Susquehanna Conference of The United Methodist Church and the First Church Endowment Committee, along with donations from church members.
The Green Space will be ready to use in the Fall, 2022. Visit our website frequently for updates on the construction.