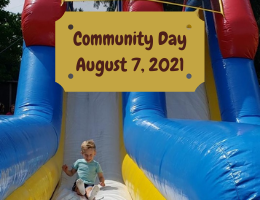 First Church invites you to the Annual Mechanicsburg Community Day on Saturday, Aug. 7, 2021 at Memorial Park from 10 a.m. to 3 p.m. First Church, along with several other community churches are sponsoring  the Children's Activity Area, which features two new inflatable rides!
The event will feature live music, food trucks, kids programming and more. We will also be celebrating the park's 100th Anniversary with a special opening ceremony at 10:00 a.m.
For event details, visit The Downtown Mechanicsburg Partnership at https://downtownmechanicsburg.com/events/community-day-in-the-park/.  See event flyer here.