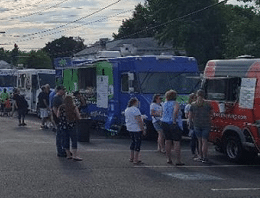 First Church is pleased to announce that the Third Friday Food Trucks will be returning Friday, June 18! The trucks will serve in the church parking lot from 4:30 to 8:00 p.m.
We are excited to announce that tables and chairs will be available to enjoy your food, along with jazz music from the KZ Trio!
We will be welcoming the following food trucks: Mad Dash, Doughheads Waffles, Italian Job, Grappling Crab, Shredderz, and Sarah's Creamery.
Mark your calendar now for upcoming Food Truck dates on July 16, August 20, September 17 and October 15.
Please Like our Facebook page at First United Methodist Church of Mechanicsburg, Pa. for updates and future events.